October 15, 2023
If you've considered trading your car or bus pass for a set of wheels but find the prospect daunting, fear not. This guide is tailored for you, offering a comprehensive roadmap to ensure your bike commuting adventure is not only smooth and efficient but also enjoyable and, above all, safe.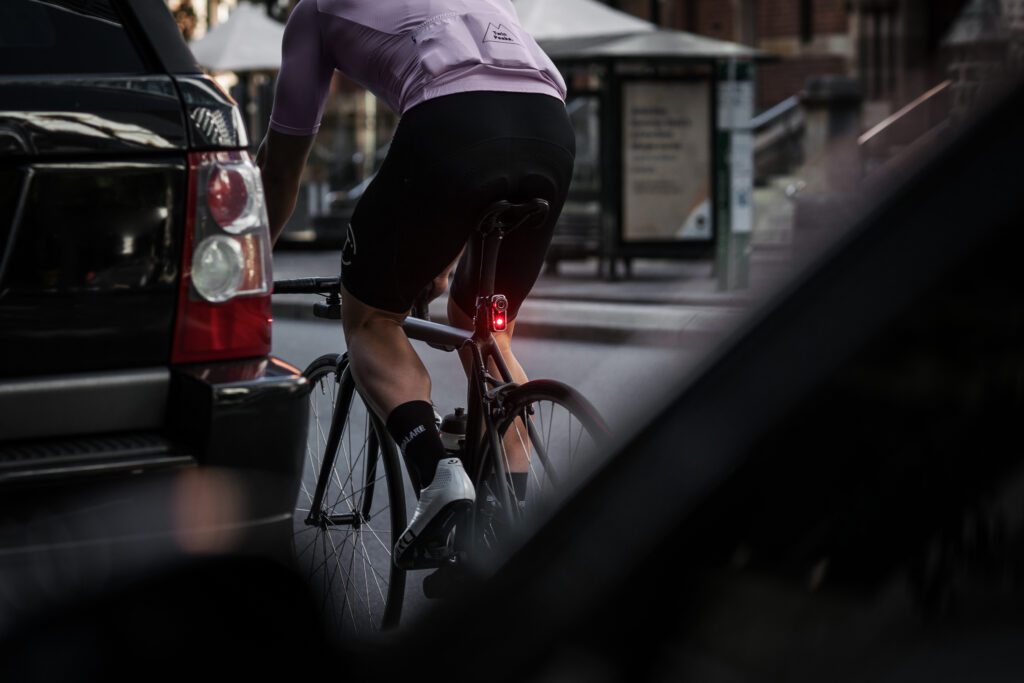 1. Choose the Right Bike Gear:
The first step in your biking journey is selecting the perfect ride and accessories. Consider your terrain and comfort when choosing your trusty two-wheeled companion. Additionally, prioritise your safety by investing in essential accessories, including a high-quality helmet and brightly coloured clothing that enhances your visibility, especially in low light conditions or heavy traffic. 
Enhance your cycling safety with a bike camera that records your rides from the front and behind, commonly known as 'bike dashcams' or 'safety dashcams.' These devices provide high-quality footage, clear enough to scan for number plates, offering invaluable evidence in case of accidents. Plus, in the unfortunate event of a crash, the device saves the footage, preventing it from being overwritten once the Incident Protection Mode is enabled. 
What's more, these bike cameras are equipped with powerful safety lights, ensuring visibility day and night. With a long battery runtime, you can trust that the camera will record your entire ride worry-free. Cycliq's bike cameras are specifically designed for this purpose, as stated by Cycling News: "You get quality recording, straightforward ways to check the status, and a light that will guide you home in an emergency or help you stay visible throughout the day." 
2. Plan Your Commute:
Utilise biking apps and online maps to scout bike lanes, pedestrian-friendly paths, and less congested roads. These digital tools not only help you find the shortest and safest routes but also provide real-time updates on road conditions and traffic patterns. By taking advantage of technology, you can avoid unnecessary delays, reduce stress, and enjoy a more seamless journey. Additionally, planning your route in advance allows you to explore scenic pathways, discover hidden gems in your city, and make your daily commute an enriching experience. 

3

. Be Weather-Prepared:

 
Dressing in layers is key to adapting to changing conditions: lightweight, moisture-wicking fabrics close to your skin, followed by insulating layers, and topped with a windproof and waterproof outer shell, can shield you from various weather scenarios. For those residing in regions prone to rain, investing in high-quality waterproof gear, including jackets, pants, and shoe covers, is essential. By staying dry and comfortable, not only do you maintain your enthusiasm for biking in adverse weather, but you also enhance your overall commuting experience. 
If you're an avid cyclist who loves to ride in all weather conditions, Cycliq's weatherproof bike cameras are your ideal companion. Rain or shine, these cameras provide you with the confidence to record your rides regardless of the weather outside. When you're gearing up for a rainy ride, these durable bike cameras become your reliable partner, ensuring you never miss a moment of your cycling adventures. Even in challenging weather, Cycliq's weatherproof bike cameras allow you to capture every detail, enabling you to review your ride later and relive those exciting experiences. 
4

. Stay Aware and Alert:

 
Stay aware of your surroundings, anticipate traffic movements, and never assume that drivers are always attentive. Incorporating bike cameras into your setup is a crucial measure for enhancing your cycling safety, offering an added layer of security by making drivers conscious of their responsibilities while being recorded during your rides.   
Additionally, organisations such as UpRide offer a platform where you can upload your bike camera footage, shedding light on incidents in your area and underscoring the potential risks faced by cyclists. By sharing your experiences, you contribute to a safer cycling environment and help educate others about road safety. 
Embarking on the path of bike commuting is more than a choice, it's a commitment to a healthier, greener, and more enjoyable lifestyle. Equipped with the right knowledge and gear, including innovative solutions like Cycliq's bike cameras, you are well-prepared to navigate the roads safely. With these tips and the proper equipment, begin your ride and travel securely without compromise.